Alkamel V2
The Al Kamel V2 Protocol is a JSON protocol that Al Kamel introduced in 2017.
Configuration​
You must obtain a user name and password from Al Kamel to be able to access this data. This information needs to be entered in the "Additional Options" area of the Championship Configuration in HH Timing.
There are 3 options for the GPS field:
rgps - the real GPS position
gps - an estimated GPS position
no - if you don't want to use GPS
For the Record GPS field, select:
true - if you want to save all GPS messages in the replay.
false - if you don't want to save them.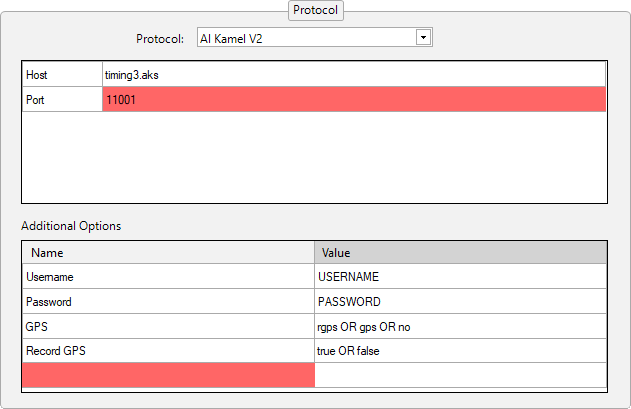 Host​
| | |
| --- | --- |
| FIA WEC, ELMS, FE On-Track | timing3.aks |
| FIA WEC On-Cloud | fiawec.datapublisher.alkamelcloud.com |
| IMSA On-Track | timing-data.aks |
| IMSA On-Cloud | imsa.datapublisher.alkamelcloud.com |
caution
For IMSA, please select the AlKamel Premium IMSA protocol. This handles the FCY period as S/C.
Read History​
You can now get the full history since the beginning of the session by adding an option "Read History" in the Additional Options.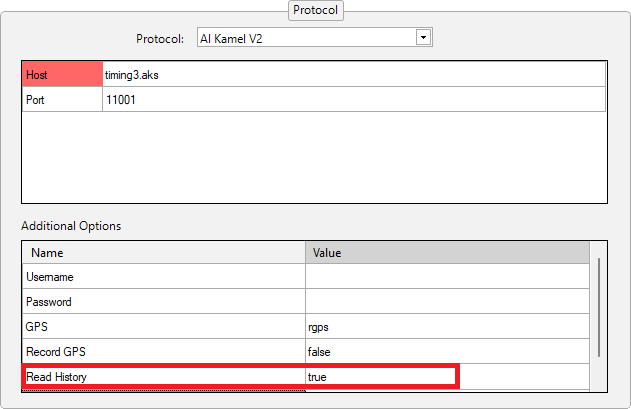 As it will read the history of all completed laps, you might lose some information, like sectors or pit stops.
Additional loops (Specific championships)​
In some championships, Al Kamel provided some additional loops that are not shown by default in HH Timing.
Users can define their own sectors using the timing loops provided by Al Kamel. As can be seen in the following screenshot, these sectors are defined in the "Additional Options" grid. The sector name (chosen by the user) is defined in the first column, and the second column defines the start and end timing loops for the sector, separated by a semi-column ";".
You can choose the name you want but the value should always be: Loop1;Loop2
caution
You can only define additional sectors on a computer directly connected to Alkamel V2 Protocol (server). Client computers connected via the server mode will receive automatically the same sectors than the server.
GPS track map (specific championships)​
For the software to render the cars on the main track map by GPS data rather than the normal interpolation method this must be specified in the main track map ribbon bar control as shown below.
note
The GPS data used to render the cars on the main track map is always available to the software when connected to the Premium protocol. No cars/classes need to be specified in the Additional Options.
Track map highlighting such as ghost cars can't be displayed on a GPS based map. To display ghost cars, the user needs to revert to the traditional non-GPS track map by un-checking the check box.
GPS speed and driving line​
The control to display the GPS Speed and the driving line can be accessed from the Ribbon Bar. Click on Display and then on GPS Speed:

Laps can be selected to be displayed by using the Add Live Follow or Add Laps buttons.